Résumé
Takuya Kanbara is getting ready for his brother's birthday party when he received a phone message from a mysterious voice, which invites him to a game. He follows the directions given and finally ends up at Shibuya's subway station without some fortuitous coincidences. Takuya gets in an elevator after seeing Koji Minamoto, and the elevator drops below the typical floors into a hidden area filled with trains. He boards one as they leave, seeing Koji ride away into another tunnel.
Three other kids are on the same train as he: J.P. Shibayama, Zoe Orimoto and Tommy Himi. J.P. and Zoe apparently also received a message on their phones, just as Takuya did, though Tommy was forced onto the train due to bullies. The four children begin to talk, until the lights turn off and all four are swept off their feet. Takuya sees images of Digimon superimposed on the others, just as their phones turn into D-Tector Digivices. The mysterious voice then welcomes them to the Digital World.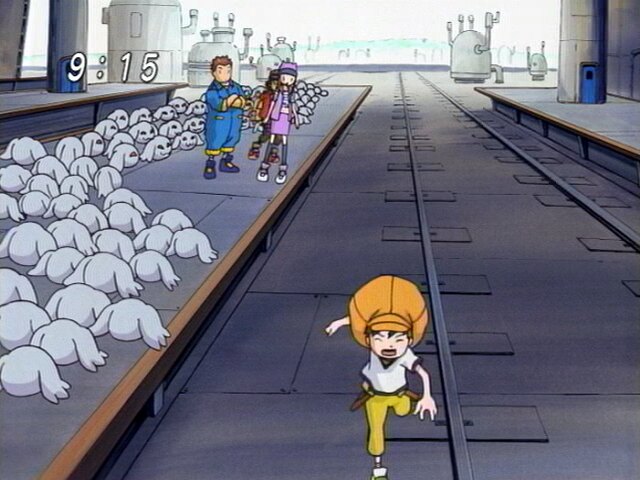 They stop at the Flame Terminal, where they discover that their train is actually alive: it is a Trailmon (Worm), who tells them they need a Spirit to return home. Tommy begins freaking out, attempting to cross the train tracks back home despite the fact that they hang in midair. Takuya goes after him, but Cerberumon attacks seeking a Spirit, causing Bokomon and Neemon to flee to Takuya. Cerberumon attacks them, but within the Flame Terminal, Takuya's D-Tector reveals the H Spirit of Flame, which he uses to spirit evolve into Agunimon. He defeats Cerberumon and scans his Fractal Code after a harsh battle, after which he reverts back to Takuya, leaving all involved confused.